Tod Bryant
Tod is a founding member and current President of the Norwalk Preservation Trust. A principal of Heritage Resources Connecticut, he is an architectural historian who meets the professional qualifications of the United States National Park Service. Tod is a consultant for numerous organizations involved with preservation, adaptive reuse and utilization of historic properties. He advises organizations seeking historic tax credits in connection with historic preservation projects and has facilitated numerous historic preservation and redevelopment projects throughout Connecticut. His work includes original research and applications in support of numerous National and State of Connecticut Historic Register individual and district nominations.
Tod is also a professional photographer who taught photography for many years at the New School in New York City. His involvement with historic preservation began when he and Marija Bryant bought a house built in 1919 on Morgan Avenue in Norwalk, where the current Norwalk Preservation Trust was founded and was based until NPT moved into its present space at Fodor Farm.
Lee H. Levey
Lee is a licensed architect, with a professional focus on residential design and historic preservation. He holds degrees from the Pratt Institute and the Harvard School of Design. He worked in several firms in New York City before relocating to Schwartz Architects in Greenwich, CT. After eleven years and the position of Senior Staff Architect, Lee left the office and established the firm of Lee H. Levey AIA Architect in Norwalk. Over the past thirty-four years Lee has maintained high standards of design and execution in all the work the office produces.
Over the years, Lee has been involved with numerous boards and commissions in the city of Norwalk, including the Norwalk Library Board of Directors, Planning Commission, Common Council, and Zoning Board of Appeals, as well as the Norwalk Land Trust and the Norwalk Association of Silvermine Homeowners. Lee is Vice President of Norwalk Preservation Trust, providing his wealth of architectural insight, knowledge, and experience on a multitude of projects. He has been a critical supporter of the NPT mission and has helped steer the board through all major decisions.
Georgette Blau Guttman
Georgette is a Norwalk native, and a graduate of Skidmore College with degrees in Architectural Preservation and Creative Writing. She introduced the concept of television and movie tourism to New York City in 1999 at the age of 24. When she realized that her first apartment was a stone's throw from where The Jeffersons lived, Georgette got the idea to scout other locations that had been used in filming. Using her passion for classic television and cinema as inspiration, she founded On Location Tours, now one of the world's largest television and movie tour companies.
She has been a featured speaker at the Motion Picture Association of America's Business of Show Business Symposium in Washington, D.C.; the International Tourism Bourse Berlin; the Commission Nationale du Film France; the Italian Film Commission in Rome; and at Paramount Pictures in Tokyo. Norwalk Preservation Trust was very lucky when Georgette joined its board in 2010. Her professional expertise, her knowledge of Norwalk's history and architecture, her wit and her wisdom have been a defining feature of all nine of our popular Living History bus tours since 2011.
Charles S. Harris
Charles is a native Norwalk resident, lawyer, and husband to Carroll R. Harris, a father of four and "Grandpa" to three little ones. His interest in historic preservation began in Washington, D.C. where he and Carroll restored two historic townhouses, before moving back to Norwalk and tackling two additional renovation projects. They currently reside in a Second-Empire Victorian property which Charles refers to as their "lifetime restoration project."
A graduate of Hampshire College and the American University Washington College of Law, Charles has an active legal practice. He enjoys traveling, outdoor sports and adventures, mostly in Vermont. From 1982 to 1990, he was a member of the U.S. Whitewater Canoe and Kayak Team, winning silver and bronze medals at competitions in Merano, Italy and Augsburg, Germany. Always up for adventure, Charles has rescued and adopted several beloved Rottweilers and a feisty Fox Terrier. His participation in NPT continues since 2008, where he assists with the scholarship program, website, and legal issues.
Wendye Pardue
Wendye is a realtor with William Raveis Real Estate in Norwalk. A graduate of University of Memphis with degrees in Fashion Merchandising and Marketing, she has also studied at École de Cuisine La Varenne in Paris and completed a three-year certification program in the traditional design principles of Feng Shui. Her additional interests include Boxer Rescue, all kinds of home and interior-design related subjects, hiking in the woods, sitting at the beach, and being in nature as often as possible.
Wendye has been a member of the Norwalk Preservation Trust Board of Directors since 2006. Her primary role is as a member of the Events Committee, organizing the receptions and helping to manage the events as they happen. A lot goes into planning and coordinating a bus tour, a walking tour, or a festive gala. Wendye is at the heart of it all, before, during, and after.
Gloria Kao
Gloria is Director of Operations for the Office of External Affairs at Weill Cornell Medicine – Cornell University's medical school in New York City. She oversees a team responsible for revenue processing, financial reporting, business intelligence, information systems, prospect management and research, budget, and business services for the 100+ member External Affairs team. From 2000 until 2012, she was Director of Operations for the Development Office of NewYork-Presbyterian Hospital and Weill Cornell Medicine. She holds degrees from Oberlin College and Columbia University. She has presented at Fundraising Day in New York, the Association of Professional Researchers for Advancement, and other industry forums.
Gloria joined the Norwalk Preservation Trust board in November 2021, serving as our Treasurer. Her involvement with historic preservation began when she and Eric Rasmussen moved into an 1879 Greek Revival farmhouse in West Norwalk.
Anne Blum
Anne is the Head of Platform at Angular Ventures. She focuses on providing the fund's portfolio companies the connections and resources necessary to achieve their goals and scale globally. Prior to joining Angular Ventures, she worked at Facebook, Goldman Sachs, the German Accelerator, and co-founded Ellis Accelerator. Anne is an alumni of the French-American School of New York, graduating magna cum laude from Cornell University. She has lived in New York City, London, Paris, Silicon Valley, and here in Norwalk.
Anne is passionate about giving back to the community. In addition to joining the Norwalk Preservation Trust board in January 2022, she also serves on boards for Scholarship Plus (a college student support program) in New York City and the American Red Cross of Greater New York. Her involvement with historic preservation began in the same way it has for many members of Norwalk Preservation Trust, she bought a vintage home in Norwalk!
Carol Ann Falasca
Born and raised in Norwalk, Carol Ann holds a degree in Fine Arts from New York University, with a specialization in Italian Art and Architecture. She lived for fifteen years overseas in Rome, absorbing and experiencing Italian life and culture. Upon returning to Norwalk, Carol Ann served for nine years on the Norwalk Historical Commission. She has been a real estate agent in Norwalk for the past thirty years, handling numerous historic properties. She has traveled extensively, looking for art and architecture "in the raw," she loves reading, and believes that without history we are all doomed to just float around and be boring.
She is presently serving as a director on the boards of the Norwalk Preservation Trust, where her efforts are focused on the Events Committee, and the Friends of the Norwalk Museums. Her local knowledge of houses in Norwalk and their owners, combined with her experience on the Historical Commission, have proven invaluable to NPT time and time again.
Eric Rasmussen
Eric has served as a member of the NPT Board of Directors since March 2009. He is a graduate of Carleton College and Yale University, holding degrees in Asian Studies, History, and History of Art. He manages our communications, our fundraising, and the organization's technological profile. He is the editor of this website and manages the ticketing and other online aspects of our events and marketing.
Eric's involvement in historic preservation began in 2008 when he and Gloria Kao moved into a 1879 Greek Revival farmhouse in West Norwalk. The previous owner of the house was a member of NPT's board, and restored the original barn on the property. The house itself still needed a lot of work, with many layers of "improvements" that needed to be stripped away to preserve and document what remained of the old house and restore its character.
Suzanne H. Betts
Suzanne's passion for genealogy and local history began while researching her family's roots in Norwalk. The tenth generation of her family to have lived in Norwalk, she descends from many of the town's founding families. Suzanne joined the Norwalk Preservation Trust board in 2016, serving as Treasurer until 2021. From 2012 to 2020, she was a commissioner and a past chair of the Norwalk Historical Commission, and from 2006 to 2014 she served on the board of the Norwalk Historical Society in various roles.
Suzanne is a former award-winning Wall Street analyst, with over a decade of experience researching investment opportunities in the aerospace & defense industry. In 2011, she transitioned to financial technology (fintech), working in product management roles where she leveraged her research and analytical expertise to translate user workflows into detailed technical criteria and product features for financial and corporate clients. She holds a dual BS degree in Psychology and Political Science from Tufts University, a Master's in International Management from Thunderbird School of Global Management, and a Master's in Economics from Fordham University.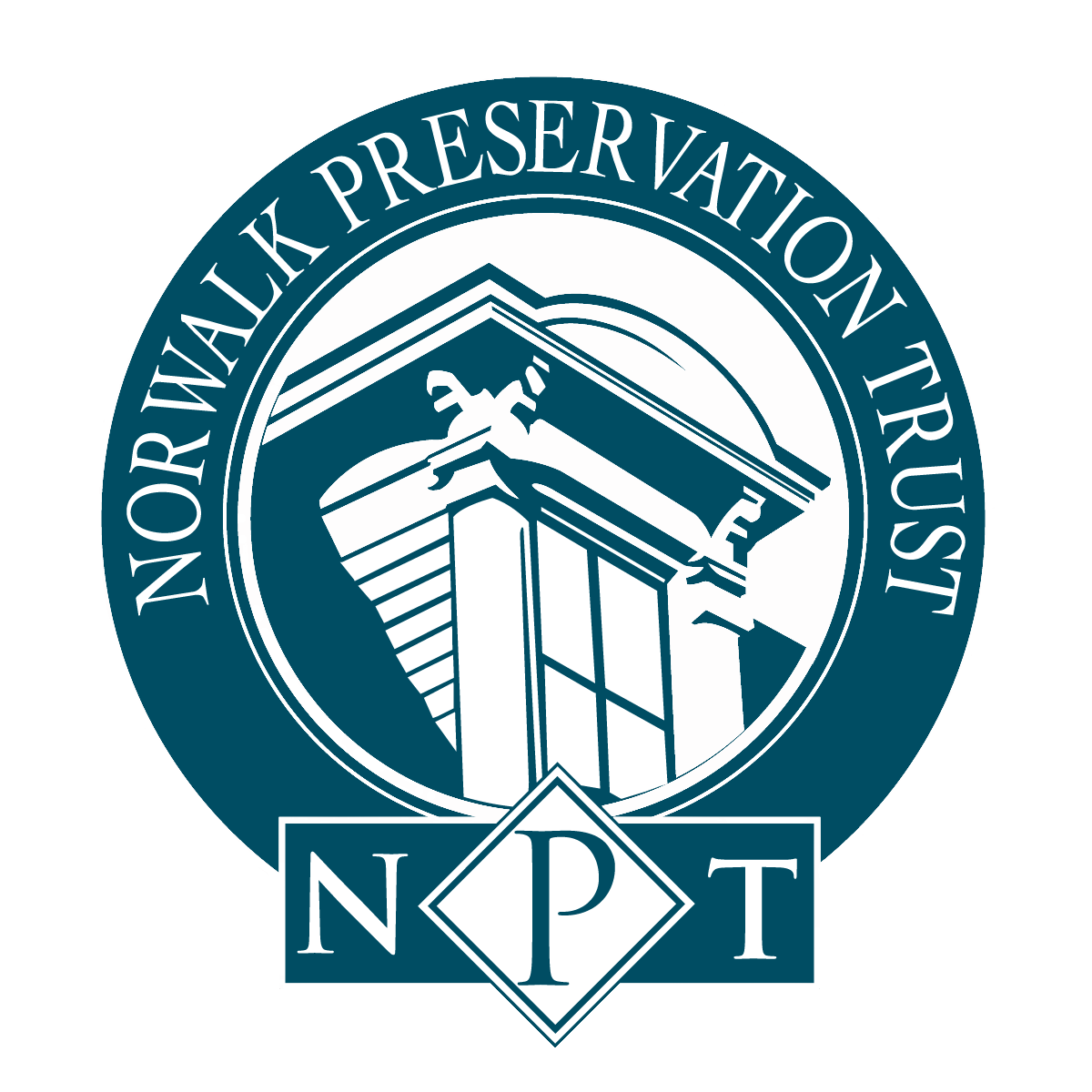 Norwalk Preservation Trust
MAILING ADDRESS
P.O. Box 874
Norwalk, CT 06852